Similar to the music and fashion industry, more and more hotels are focusing on "alpine lifestyle". Mainly with culinary, architecture and special services they try to convey an alpine feeling.
Together with the Prodinger consulting group, Denise Lang from 360° decoro has produced a report: In addition to the analysis of the leading lifestyle hotels in the alpine region, the report provides an assessment of how hotels in the Alps can exist in the future.
An excerpt is available for download at the following link.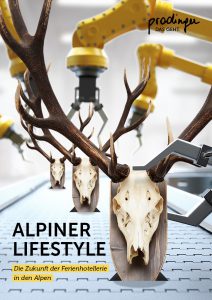 You can order the report for € 36 plus VAT at tourismusberatung@prodinger.at.